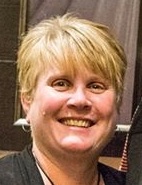 Dr. Pamela Cutter
Instructor
Hello everyone! I look forward to working with you as you learn about (or deepen your understanding of) mobile computing.
Schedule
Personal Webpage
Team Site
The Mobile Computing Team site will be our online classroom, a place for class and group meetings, informal conversations, and collaborative group work.
CS 489/490 Mobile Computing Team Site
WELCOME ALL!
COMP 489/490 - Mobile Computing, Fall 2022
Welcome to Mobile Computing (CS 489/490)! I hope you will find this course to be a challenging and engaging learning experience. Remember that I have office hours to help you keep the challenge from becoming overwhelming. I will be holding office hours in-person and on Microsoft Teams; check my schedule for available times. If my posted office hours conflict with times you are avalaible, please contact me via email or Teams to set up a time to meet. To get a better sense of the goals and expectations for this course, please read over the syllabus.
One last thing: diversity and inclusion in Science are critical for the achievement of excellence. For this reason, we are all responsible for making sure our classroom is a space in which everyone can learn, participate, and contribute to each other's learning experiences.
---
TEA TIME
Wednesdays, 3:45 PM to 4:15 PM
The Math/CS department hosts a weekly tea time from 3:45 to 4:15 on Wednesdays. Please drop by the Common Area just outside the department office suite (OU 203) for some conversation and munchies.